Cabaret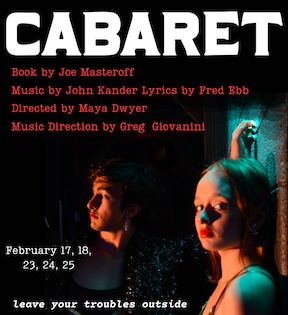 One of the world's most popular and controversial musicals comes to Le Moyne. When the world
around them was descending into chaos and hate, there was one place where everyone could be
free. Join us inside the Kit Kat Club as one of the most successful musicals of all time comes to Le
Moyne.

Seating is general admission. Sign up to sit on stage in the Kit Kat Club for the performance! A CASH ONLY Bar will be available in the lobby 45 minutes before each performance. Beer, wine and gin & tonics will be available for purchase, along with lemonaide & bottled water.

Tickets: $20 general public, $15 seniors, $5 students, faculty & staff.

For additional information please call (315) 445-4200 or visit www.lemoyne.edu/vpa.